Houston, Texas Portrait Photographer | Award Winning Maternity and Newborn Photos
Photography has the incredible ability to freeze moments in time, immortalizing memories that will last a lifetime. As a passionate Houston newborn and maternity photographer, I recently had the honor of winning awards in both the newborn and maternity categories of an esteemed international photo competition. In two different competitions in 2023, images I entered have been judged in competition and won awards! It is so exciting! Read on to see the images or go to my home page to learn about the full-service newborn and maternity photo experiences I offer here in the Houston, Texas area.
Photographing newborns and capturing the beauty of maternity has always held a special place in my heart – supporting women and moms in Houston is my mission as a portrait photographer. The innocence and purity of newborns and the radiant glow of expectant mothers have a captivating power that compels me to focus on these subjects for my artwork. It is this deep connection and fascination that ignited the spark of inspiration, urging me to showcase my work on an international platform.
Working with newborns requires patience, a gentle touch, and a keen eye for capturing fleeting moments. Safety is key when photographing these tiny humans and always at the forefront of my posing techniques. I focus on creating comfortable and secure environments for your new little one. Maternity photography poses its own challenges, with a need to create an atmosphere that makes expectant mothers feel confident and beautiful. Each in-home maternity and newborn photoshoot provides a unique opportunity to connect with families, understand their stories, and bring their visions to life.
Now you know why I do what I do, let's get to the image competition! Accredited Professional Newborn Photographers International (APNPI) is a Professional Newborn Photographer's Association created by newborn photographers specifically for newborn photographers. They offer safety training, education, and accreditations for photographers who focus on newborn, maternity, and childhood as subjects. They even have an online section for parents with tips and the ability to find an accredited newborn photographer nearby. They hold two image competitions a year and have a VERY high standard for entries and winners. This was my second time to enter, and I won in both the newborn and maternity categories!
Submitting my work to this international photo competition was both exhilarating and nerve-wracking. With talented photographers from around the world vying for recognition, I had not idea how I would fare. The day I received the news of winning silver level awards in both categories was an indescribable moment of triumph. It is a testament to my dedication, passion, and growth as a photographer – a journey in which I will continue by seeking more photography education and feedback on all aspects of my images and service from clients and other professionals. The joy of being acknowledged for capturing the tender moments of new life and the beauty of expectant mothers is immeasurable, and I cannot express how exciting this really is. And thank you to my wonderful models! You both are amazing.
Here is the newborn photography category winning photo. Isn't he the cutest? His skin tone goes so well with this deep green color.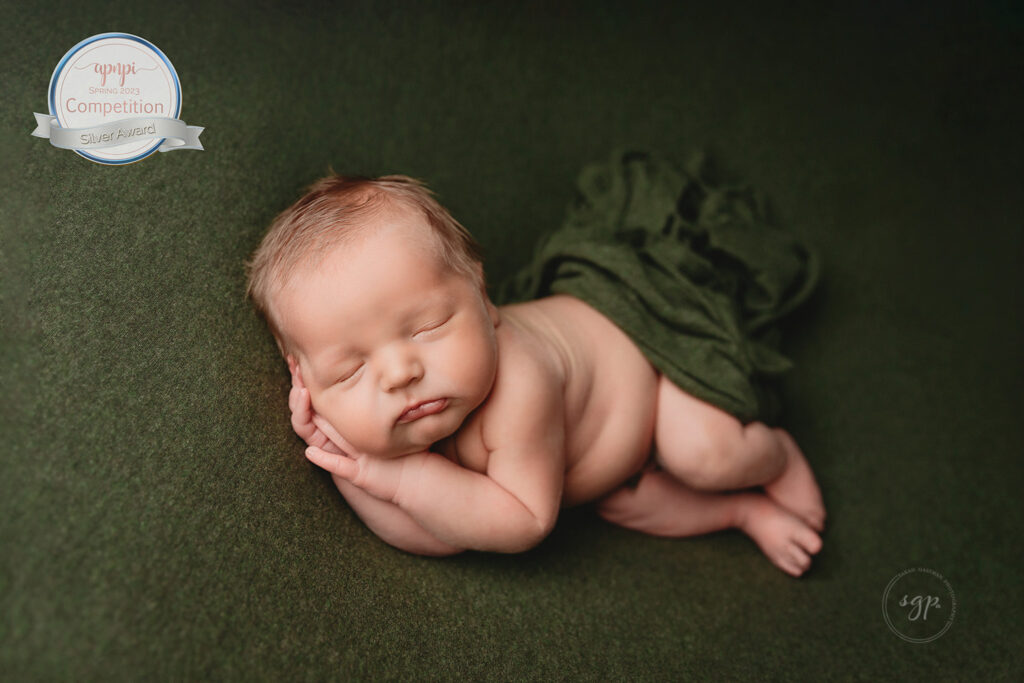 I also won 4 awards in the newborn category in the AFNS January 2023 competition. The first two are from the same in-home newborn photo session near Cypress, Texas. The first is the baby boy in a pose we newborn photographers call side-laying. I love the blue and how the back of his body is not as in focus as the front. It really draws attention to his adorable face.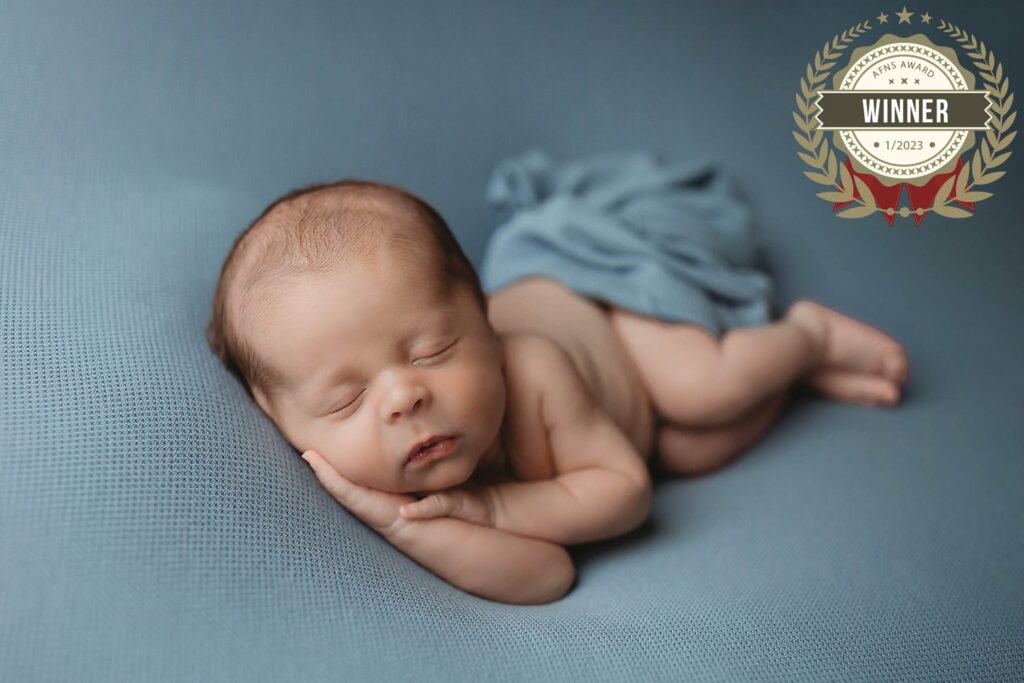 The second from this baby's fall photo session is him wrapped in a lovely rust colored knit wrap then placed in a basket with matching layers to support him. The lighting here is my favorite – it's called backlit.
The next two images were also from the same luxury, in-home newborn photo experience. Mom wanted mostly neutral colors for her first baby's session and LOVED the results. I do, too. This family photo with the tiny newborn baby is one of my all-time favorite I have taken to date.
Then I wrapped the baby boy in a similarly colored wrap with matching tiny teddy bear as he drifted back to sleep. This image is just so sweet and dreamy. It has everything: tiny toes, chubby arm rolls, cute little lips, and sleepy baby with TONS of hair.
I entered one maternity photo in each of the APNPI and AFNS competitions. The first one was to the AFNS awards, and am so pleased this it has done well. I know you've seen it before, but now I can share with the award badge on it! It sure helps that this mama is so gorgeous.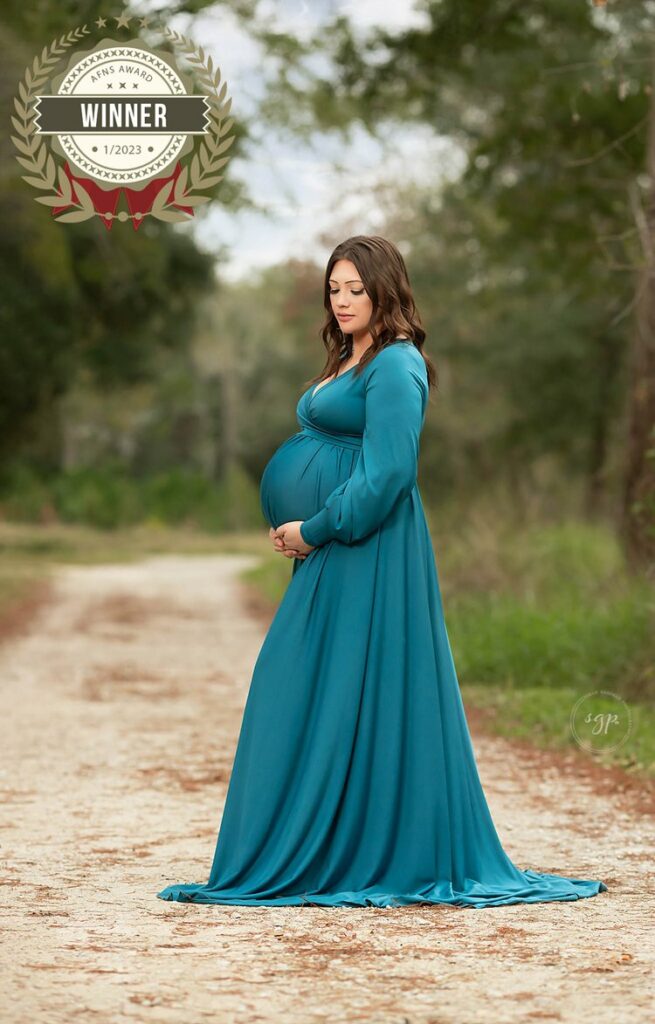 I entered the next photo in the APNPI maternity category. This pink on pink is perfectly lit. And the loving look on this mama's face says it all.
Thank you to the judging panel, everyone who has helped me learn to take beautiful baby photos (it's really hard if you haven't tried), and to my clients who allow me to share their special images. I love this job and am tickled to say I am an award-winning photographer for maternity photos and newborn portraits.
Participating in the APNPI and AFNS international photo competitions and winning awards in both the newborn and maternity categories has been a remarkable journey. It has taught me the power of perseverance, the importance of honing my skills, and the joy of capturing life's most precious moments. This achievement fuels my passion for photography even further, encouraging me to explore new horizons and continue preserving the beauty and emotions that unfold before my lens. Next time I am going for gold! I am grateful for the opportunity to share my story, and I hope it inspires others to pursue their artistic passions and find fulfillment in capturing life's fleeting moments.
Contact me today to book your in-home maternity or newborn photo experience in Houston, Texas. Maybe an image from your photoshoot will be my next winner!